Boat – Recreational Marine Drivers Licence (RMDL)
Doing your Maritime Safety Queensland, and Boatsafe approved RMDL (Boat licence) course, you couldn't be in better hands than with Licence to Boat. Our simple step-by-step system helps you through the requirements needed for your licence. Our online theory course allows you to learn the required information at home (or work!)
What's included in your course:
1x Boat training session. (45mins -1h per student, 3 students max)
1x Theory Refresher session.
1x Theory exam. (2 attempts to achieve 100% allowed per day)
BoatSafe assessments $100 extra payable on the day.
*If unsuccessful on your first assessment attempt we will provide 30 minutes of additional one on one training and another assessment for free at a later date.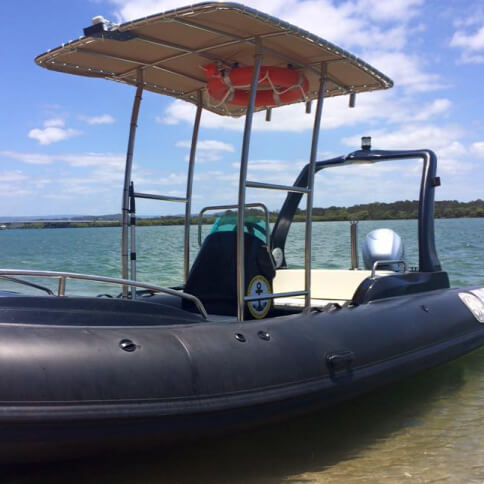 Our simple step-by-step system helps you through the requirements needed for your licence.
Simple to follow step-by-step online theory.

Practical and Theory training and assessment can be completed in one day

Safe, fun and exciting boat.

Small course sizes, Max 4(groups by arrangement).

More time on the water and less in the classroom! (That's got to be good!)

Start your course today, have your licence tomorrow!
Practical Assessment –
Recreational Marine Driver Licence
The following video demonstrates some of the practical activities you will be required to undertake during your BoatSafe course.
In Queensland, you must have a recreational marine driver's licence to drive a recreational boat with a motor greater than 6HP.
Details of the Practical Assessment
The Maritime Safety Queensland Boatsafe Licensing Scheme allows for 2 attempts to attain 100% at the Boatsafe approved multiple choice theory test, and 1 attempt at an unassisted competency-based practical assessment per day.
Practical Training and Assessment must be completed within 3 months of finishing your online theory course.
Please note: You must meet the required standards in order to attain a pass, and in some cases, further training will be required before attempting and/or passing assessments.
Once competent we will issue you with a statement of competency. This must be presented to Transport and Main Roads Queensland (TMR) within 6 months, you then pay their fee to receive your licence.
Please note: The statement of competency is not a licence, it must be taken to TMR within 6 months to gain your licence.
To get a Queensland marine licence, you must:
Be at least 16 years old. (you can complete the course at 15 and a half years old)
Complete and pass a BoatSafe course or have a recognised and valid interstate or overseas marine licence
No experience, No Problem!
Our Friendly, Professional Training providers are here to help!